Cleaners
General Cleaning
From cleaning to deodorizing, Miracle Sanitation Supply can help you! Do you want versatile products that provide productivity and reliable performance? Select from our wide offering of convenient ready-to-use products as well as chemical management products for your cleaning and maintenance programs.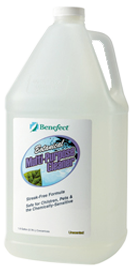 Benefect Multi-Purpose Cleaner
4 Litre
Benefect botanical multi-purpose cleaner is made from 100% botanical, biodegradable ingredients, making it safe for use around children, pets, and food surfaces without compromising cleaning performance. It is ideal for many applications including glass, mirrors, brass, stainless steel, vinyl, counters, walls, sinks, tubs, showers, mold remediation, carpet deodorizing and anywhere else that is not visibly clean.

Betco PH7
F000138-C4 (3.78 litre)
F000138-P5 (5 gallon)
This neutral daily floor cleaner is a concentrated, synthetic detergent for use on any water-safe, hard surface. When used as directed this mild cleaner will emulsify and suspend dirt and grime from table tops to floors, from spray bottle to autoscrubber.

Betco Top Flight
F000150-C4 (3.78 litre)
F000150-P5 (5 gallon)
This all purpose cleaner concentrate was developed as a result of years of research and will outperform many all purpose cleaners on the market. It is the perfect choice for any cleaning task, has low toxicity and is nonflammable and non corrosive.

Betco PH7 Ultra
F000178-F2
This 100% synthetic detergent with a neutral pH of 7 has been developed to complement the technology of today's super high-gloss floor finishes.

Betco Daily Scrub SC
F000188-F2
This heavy duty daily floor cleaner was designed for floors that are frequently burnished. This product will quickly and completely remove deeply embedded soils.

Betco Speedex Concentrate
F000173-Q12
This concentrated, fast acting cleaner/degreaser instantly removes crayon, lipstick, graffiti, oil and heel marks from a variety of surfaces.

Betco pHerfect
F000533-C4
This floor neutralizer and cleaner/ice melt remover is formulated with neutralizing agents and surfactants to both penetrate and clean tough soils and neutralize common ice melt ingredients, such as sodium and magnesium chloride. Ideal for conditioning floors after stripping and before coating.

Betco Deep Blue Concentrate
F000108-Q6
This ammoniated glass and surface cleaner quickly penetrates dust, smoke, grease and grime on all glass surfaces and is also excellent for cleaning stainless steel, Formica, plastic, porecelain and chrome. Great for all hard surfaces and is nonstreaking and nonsmearing.

Betco Clear Image Concentrate
F000192-C4
This non-ammoniated glass and surface cleaner is specially formulated for fast, effective cleaning of glass and other hard surfaces. It incorporates powerful anti-static agents that repel dust and prevent static build up. Cleans and polishes glass and plastics without scratching, streaking or fogging.

Betco Bright MSP
F000155-Q12
This high gloss multi-surface polish and protectant is a blend of lemon oil, silicones and polishing agents. This product cleans, polishes and protects fine furniture, woodwork, vinyl, plastic, leather and Formica. An invisible protective film is left that resists fingerprints, smudges and further soiling.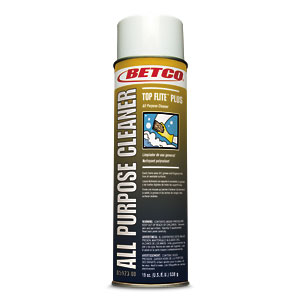 Top Flight Plus
F00TF59-A12
This all purpose cleaner is gentle enought for everyday cleaning, yet strong enough to effectively clean even the toughest grease and oil. This cleaner is effective on grease, oil, crayon, dirty hand marks, lipstick, smoke film, ink, coffee and cola stains on most washable surfaces. Clinging foam provides extended contact time on heavily soiled areas.

Betco Citrus Chisel
F000167-C4 (3.78 litre)
F000167-P5 (5 gallon)
F000167-F2 (2 litre)
This product is a non-butyl citrus cleaner and degreaser that provides superior performance provided by a synergistic mixture of natural citrus solvents and a totally unique surfactant system. It is excellent for any cleaning task from factory to kitchen. Emulsifies and holds heavy grease, oil and animal fats into solution for easy and quick removal.

Betco Tile Clean
F000119-C4
This product is a deep cleaning acidic hard tile cleaner. The fast acting foam cleaner is great for all types of hard tile surfaces and grout. It effectively cleans body oils, soap scum and mineral deposits found in shower areas, restrooms, pools and spas. Also effective on build ups of kitchen grease.

Buckeye Blue
BLUEAP
Buckeye Blue effectively cleans virtually any surface – ceramic tile, walls, restroom fixtures, skylights, counter tops, vinyl seats, floors and all nonporous surfuces. It is film-free, no rinse and works in hard water as well as cold water. Can be used with mop and bucket, spray and wipe, auto scrubbers and pressure washers.

Buckeye Workout
WORKOUT12X1
Workout removes graffiti, ink, permanent marker, crayon, pencil, black heel marks, food soils, grease, oil, and most stains. Can be used on desktops, lockers, chairs, plastic, Formica, vinyl and any nonporous surface. No rinsing required. Workout cleans without hazardous ingredients.

Buckeye Star Spray
STARSPRAY12X1
Star Spray glass cleaner contains no alcohol, butyl, or ammonia. It has a fast drying and non-streaking formula. It is safe to use on all glass, plexiglass, computer screens, chrome and bar code scanners. It comes in a convenient, ready-to-use formula.

Buckeye Sanicare TBX
SANICARETBX
Sanicare TBX is a ready-to-use, quaternary ammonium chloride based product. It is a general non-acid cleaner and disinfectant for use in hospitals, nursing homes, schools, food service and lodging establishments, retail businesses and athlete/recreation facilities. It is formulated to disinfect hard, non-porous, inanimate enviromental surfaces such as floors, walls, metal surfaces, stainless steel surfaces, glazed ceramic tile, plastic surfaces, bathrooms, shower stalls, bathtubs and cabinets.