Medical
Miracle Sanitation Supply can provide you with all of your clinical products and long term care products.
Miracle Sanitation Supply can provide basically all paper products that are used by clinics, physicians, dentists, chiropractors and physiotherapists.
Sheets
Drapes
Examination Table Paper
Gowns
Aprons
Chiropractor Rolls
Pillowcases
Dental Bibs
Dental Head Rest Covers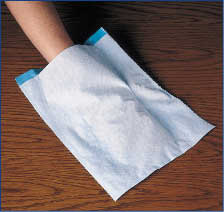 All of these long term care products are made with very high quality air laid paper which results in very soft, very absorbent wipes which are used as disposable wash cloths and perineal wipes. Products are available in 1/4 fold, 1/8 fold, and roll formats, in a variety of widths and perforation lengths. The Bio-Mitt is a key product that combines the wiping ability of an air laid wipe with a built in waterproof mitten that protects the hand from contamination.
1/4 Fold Air Laid Wipes
1/8 Fold Air Laid Wipes
Roll Air Laid Wipes
Waterproof Underlays
Mitts