Wipers
Miracle Sanitation Supply carries a huge variety of wipers for all of your sanitation needs.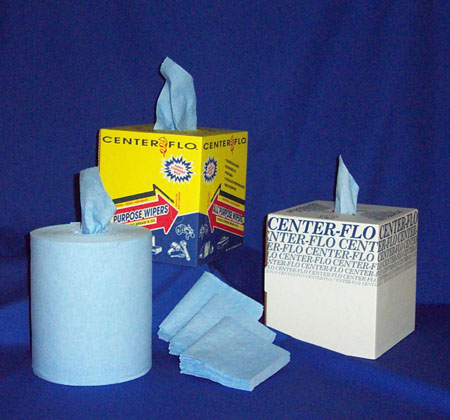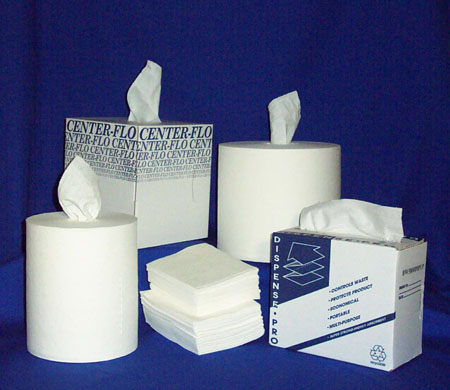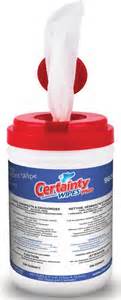 Certainty Wipes
Certainty Plus Disinfecting wipes are designed to save you time and money while providing a fast and effective method of disinfecting hard, non-porous surfaces within your facility.
Our portable 200 count canisters are a perfect alternative to our larger wall and counter top dispensers.
Ready to use pre-moistened wipes in a portable dispensing system
Reduces the risk of cross-contamination
Contains no fragrances or alcohol or bleach
Safely used on al non-porous touch points
An optimal solution for hospitals, nursing homes, dental offices, medical clinics and veterinary clinics
Kills 99.9% of germs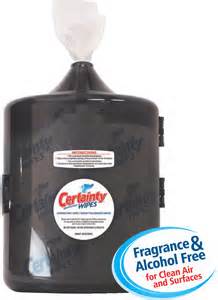 Certainty Gym Wipes
Our TOP TEN list of things you need to know about Certainty Gym Wipes:
No wimpy wipes here, each wipe is thick, strong and able to stand up to vigorous use
Clean and disinfect with an alcohol free formula, the duty of wiping doesn't impact your hands
Don't just mask odors, eliminate them. Certainty Brand gym wipes freshens without the use of fragrances
Certainty Fitness wipes can be used on all surfaces, as the wipes will NOT damage your equipment
Cut your laundry bills in half and eliminate the chore of laundering soiled cloths with the use of Certainty Gym wipes.
Certainty Gym wipes frees your hands of spray bottles and soiled cloths making it easier to clean fitness spaces, mats & equipment
Eliminates airborne chemicals that sprays cause with the use of wipes
All Certainty brands dispensers release one wipe at a time and in turn reduce over consumption
Each roll of Certainty wipes fits perfectly into a wall mounted dispenser of your choice or one of our custom-designed display cases
The Certainty Fitness wipe program has been tested and proven to increase customer satisfaction as many patrons are requesting a better and more sanitary solution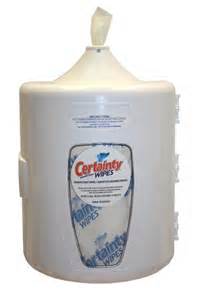 Certainty Office Disinfectant Wipes
All Certainty Brands wipes are thick, strong and pre-moistened with a natural fragrance free and alcohol free formula. However, it is because our Office Disinfectant wipes are harmless to all surfaces, registered with Health Canada and CFIA certified to use for food service and processing centers they can be used virtually everywhere. They can be used to clean:
Phones
Keyboards
Handrails
Door knobs
Kitchen breakout rooms on counters, sinks, tables & microwaves
Infant change tables
These wipes kill 99.9% of germs and are designed to reduce waste and over consumption while making it easy to clean and maintain your work space.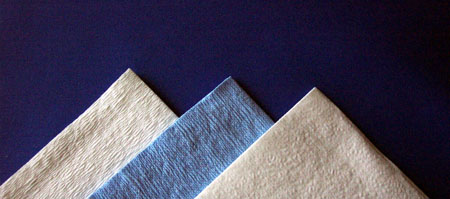 DRC Wipers
DRC (Double Re-Creped) wipers are the most popular general pupose wiper used today. They have a soft outer layer with a highly absorbent inner layer that easily absorbs a variety of liquids including solvents, oil and other lubricants without breaking down. Can be used in an assortment of applications including automotive, general maintenance and health care as a personal care wiper. DRC wipers are soft enough to be used on face and hands and durable enough to handle most solvents.
BW5700Q1008 – 12 1/2″ X 13″ heavy white – 56/bag, 18 bags/case
BW6000BCFB – 9 3/4″ X 14″ Centre Flo blue – 280/roll, 4 rolls/case

Spunlace Products
The heavy cellulose content will provide excellent absorbency while the non-woven substrate provides extra strength and durablility. Since there are no chemical binders to break down in solutions, spunlace wipers are naturally low in lint. They are ideal for electonic, computer, and hydraulic equipment. Spunlace is the right choice for critical lint sensitive wiping applications.
WT500Q5 – 12″ X 13″ Quarter fold Embossed white – 50/bag, 10 bags/case
WH wipers are the next generation in heavy duty wiping cloths. The special hydroentangled process creates a low linting textured wiper to help clean surfaces. They are fast absorbing and can be used with grease, oils, chemicals, solvents and water based liquids. The long lasting durability is due to the absence of adhesive or chemical binders holding the components together.
WH250POPUP – 9 3/4″ x 16″ – Dispense Pro medium white – 125/box, 6 boxes/case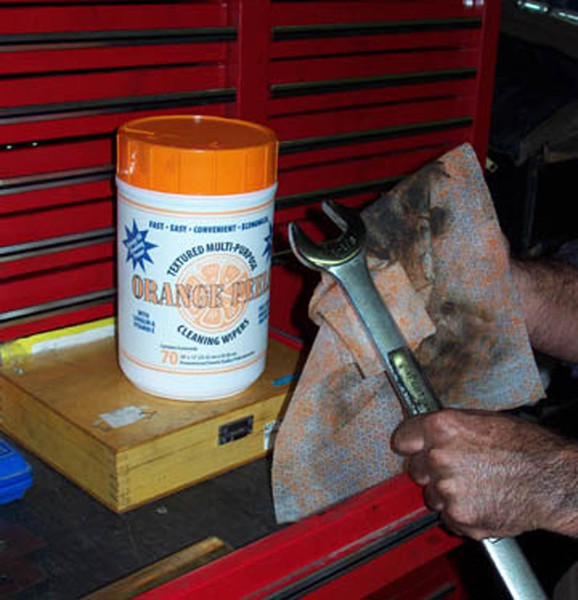 Orange Peels
Orange peels multi-purpose wipes are pre-moistened with a powerful orange oil formula that will quickly clean metals, laminates, fiberglass, machinery, concrete and tools. The unique formula will cut through grease, oil, paint, sealants, tar, wax and most grafitti. Orange peels multi-purpose wipes formula also contains lanolin and vitamin E so they are safe on skin. Scrub clean with the orange side of the wiper then use the white side for a final wipe.
OP106 – 10″ X 12″ – 70/can, 6 cans/case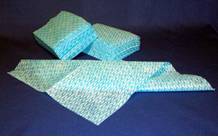 Food Service
Food services wipers are made from rayon with apertures to help provide a textured surface and increase absorbency. Extra large size will handle most jobs easily and effectively.
BFSM1200 – 13″ X 20″ quarter fold – 50/bag, 1200/case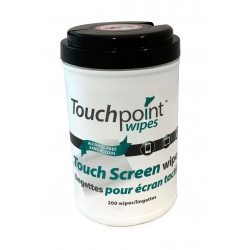 Touch Point Screen Wipes
Easily cleans dirt, grime, fingerprints and smudges. Lint free, moist wipes leave no streaks or residue. Anti-static formula cleans and protects.  Large 200 pack format in convenient tub. Alcohol-free, non-flammable.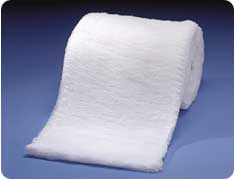 Hermitex
Hermitex is the preferred wiping cloth of the aerospace industry…and for a good reason. Its bright white, high-quality, purified cotton fibers are low-lint and non-abrasive, but strong enough to withstand industrial wiping and polishing, even with strong solvents. The textured weave of Hermitex provides more surface area for trapping debris and moisture, absorbing more than four times its dry weight in liquids.
HERMITEX – 100/roll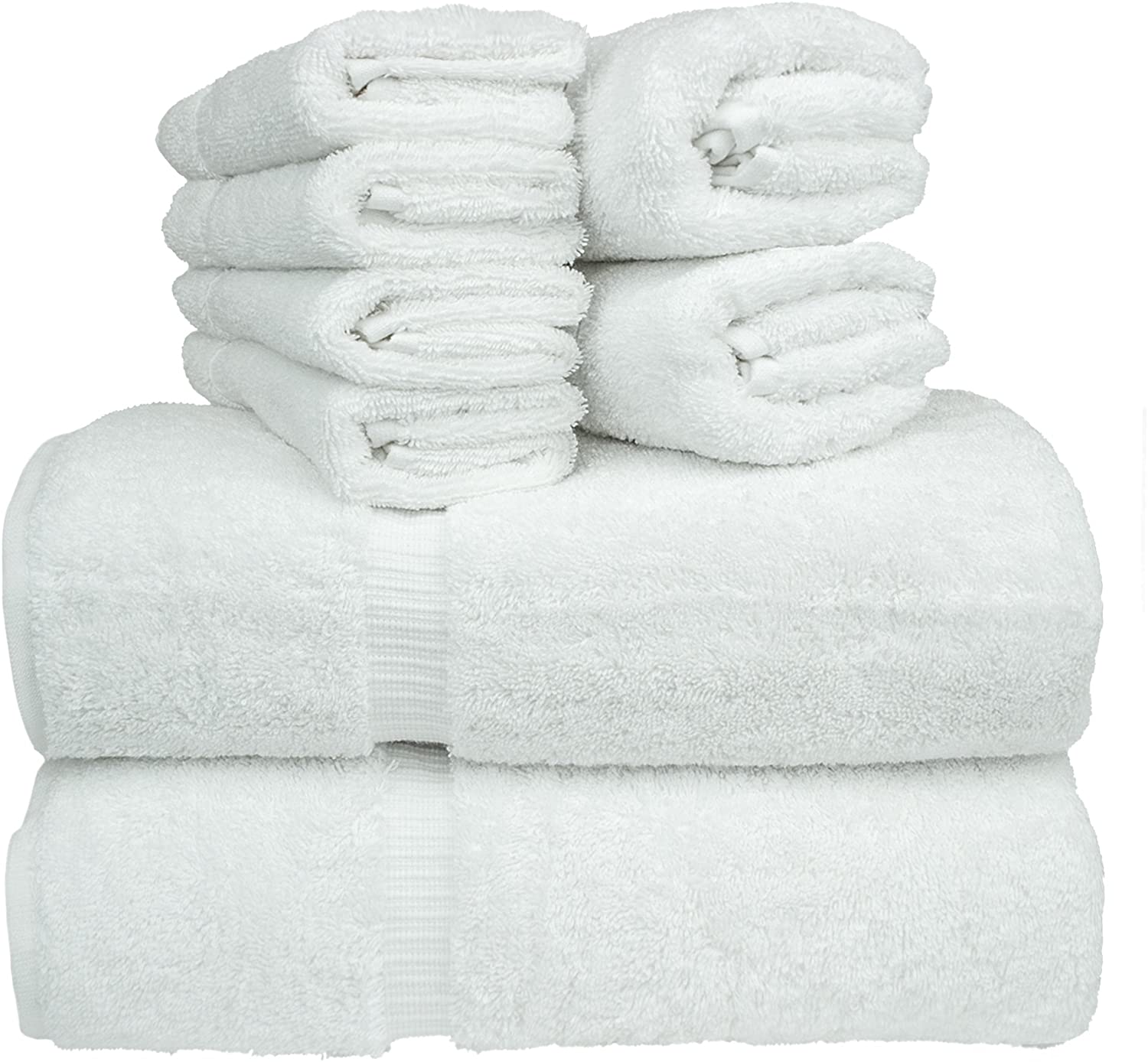 Turkish Towels
Ideal for a variety of uses including polishing, cleaning and detail work on cars and trucks. Made from extra heavy cotton, towels can be washed multiple times and are soft enough to wash and dry even the finest finish.
ITT1316DZ – 13″ X 16″ White Towel – package by the dozen

Sprayway Baseboard Cleaner & Wax Stripper
This product is specially formated to serve the housekeeping professional where floor machines are unable to reach. The penetrating foam quickly removes soil and wax buildup from baseboards, floors and ceramic wall tiles.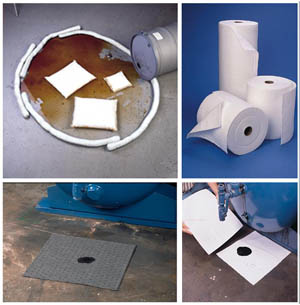 Sorb-Tex Pads & Rolls
Sorb-Tex general purpose and oil only pads are pre-cut for quick and easy spill clean up. Toss on a spill or place under drips to prevent a larger mess. For added economy, simply wring fluid from pad and reuse. Sorb-Tex rolls are perforated so you can tear off as much as you need. Tear a small size and use as a pad or wipe.
SGP35WBP – 15″ X 150′ perforated roll – double weight – 2/pack
SGP43 – Sorb-Tex sock – 3″ X 4′ – 4/pack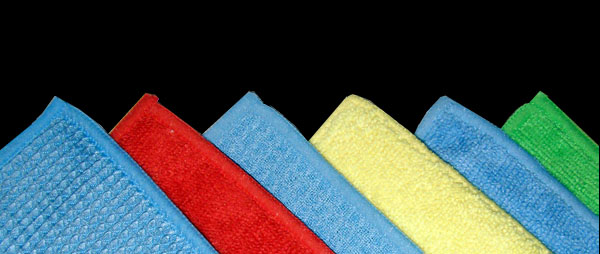 Microfiber Cloths
Microfiber cloths remove dirt, grease and dust to leave everything sparkling clean – without using expensive or damaging chemicals.
Microfiber cloths are the easiest and safest solution for cleaning almost everything around the office or car. Use it for dusting furniture, fine collectibles, lamps, electronics, TV's, computer screens, automobile interiors and polishing jewelry. Attracts and holds dust without scattering it. Other uses include removing dirt, grime and grease from windows, mirrors, plastic and metal surfaces. Use on delicate surfaces, including eyeglasses, cameras, binoculars without fear of scratching. Soak up spills and food messes from counter tops, floors and upholstery before they soak in.
Super fine threads are woven into a high-density construction. This soft, ultra-fine non-shrink fabric gets beneath particles of dirt and grease and lifts them from the surface. Can be used dry or dampen lightly with water for heavier cleaning.
MFTBDZHVY – 16″ x 16″ blue, heavy duty – packs of 12
MFTGDZHVY – 16″ x 16″ green, heavy duty – pack of 12
MFTRDZHVY – 16″ x 16″ red, heavy duty – pack of 12
MFTYZZHVY – 16″ x 16″ yellow, heavy duty – pack of 12
CL7574 – red microfiber cloth – 15″ X 15 7/10″
MFMITT – microfiber mitt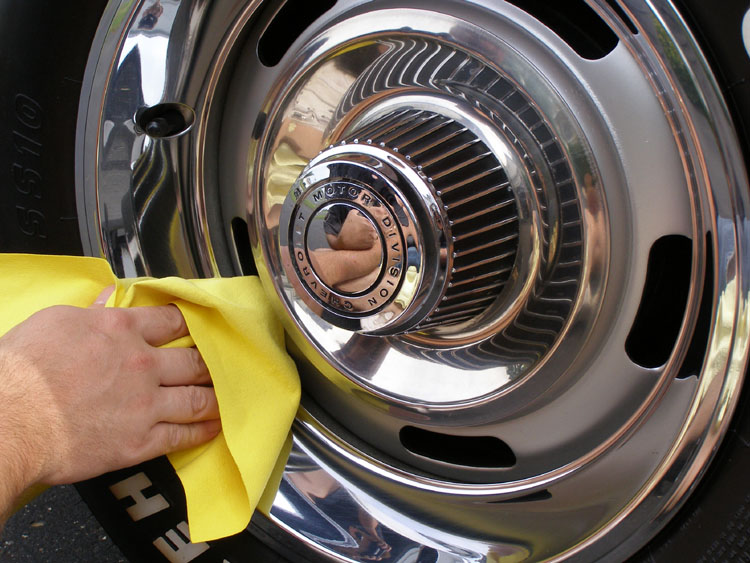 Microspun Microfiber Cloths
All of the benefits of traditional microfiber cloths in a durable yet economical cleaning cloth. Microspun cloths are constructed with the same microfiber threads that traditional microfiber towels use but they are entangled with a special process that produces a very durable towel. The thin design will clean tight spaces easily and quickly. Perfect for cleaning glass, mirrors, bathroom fixtures, polished brass, stainless steel and all painted surfaces.
MFNPD161610GR – 16″ X 16″ green microfiber cloth, 10 lb case
MFNPD161610YEL – 16″ X 16″ yellow microfiber cloth, 10 lb case
MFNP165 – 16′ X 16″ – 5-pack cloths, 24 packs/case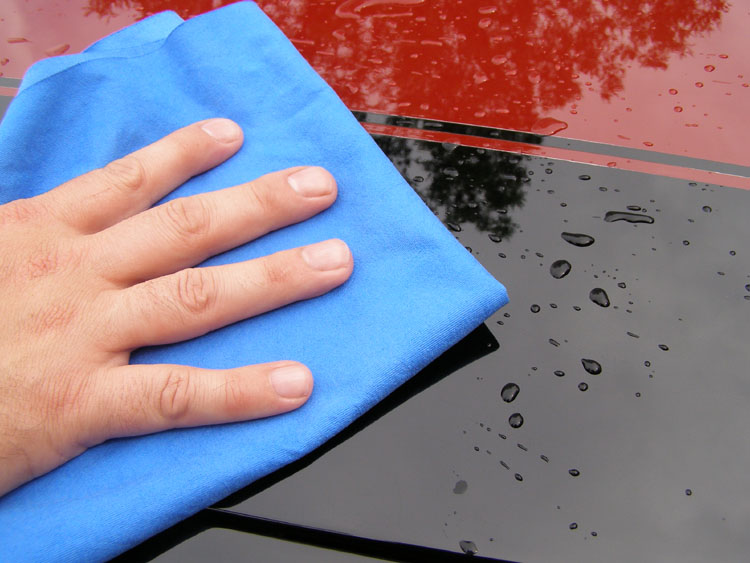 Benefits of using Microspun Microfiber
Reduces the use of chemicals or solutions (chemical may be used where needed without harming the cloths)
Nonabrasive to any surface, will not scratch and is lint free
Lifts and traps dirt – cleans surfaces faster and better
Glass and silver cleaning is made faster and more effective
Reduces or eliminates harsh chemical smells to customers and chemically sensitive people
Thin design cleans tight spaces
Microspun Microfiber is very sturdy and absorbent, can hold 4 to 7 times its weight
There are no chemicals in the Microfiber cloths that will wash out or wear away after washing
Microspun Microfiber cloths stay soft after washing
Microspun Microfiber cloths are environmentally safe
Dry Use
For general dusting or light dirt, use the cloth dry
Wet Use
Dampen the cloth lightly. If the towel is too wet, streaking may occur and extend cleaning time
Use dampened on glass and mirrors, kitchen and bathroom fixtures and appliances, counters and table tops, polished brass, stainless steel, painted surfaces
Washing Instructions
In order to use the cloths for a long period with satisfactory results, it is necessary to wash them on a regular basis. They are machine washable, tumble dry on low/medium temperature. The will dry in less than half the time of cotton towels. Use no conditioner as it damages the cloth's static electriciy. Use an environmentally friendly washing powder.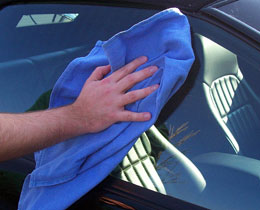 Huck Towels
New first quality product. 100% cotton.
Pre-Folded
Easily fits drop down or coil dispensers
Excellent window towel
NBHT100 – 16″ X 25″ blue huck towel, 100/ct.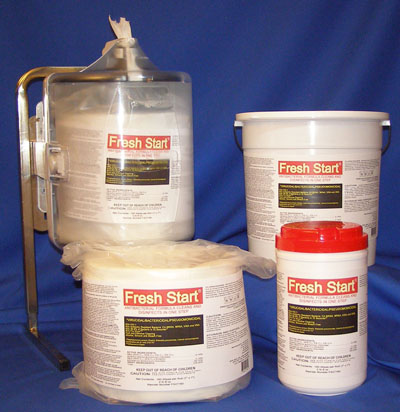 Fresh Start Disinfecting Wipes
Use Fresh Start Disinfecting Wipes to quickly and effectively clean and disinfect hard non-porous surfaces. Fresh Start Disinfecting Wipes will kill most viruses and bacteria including HIV-1, MRSA, Norovirus and Infuenza A viruses. Best of all they are alcohol and bleach free. Each pre-moistened wipe will consistently deliver the proper amount of solution without the hassle of mixing, measuring and testing. Dump the red bucket and move to quick and easy Fresh Start Disinfecting Wipes. Excellent for use in hospitals and healthcare settings, schools, daycare settings and shopping areas.
FS27160 – 7″ X 7″ – 160/can – 6 cans per case
FS27700 – 7″ X 7″ – 700/roll
FSBKT2.5 – Dispenser

Buckeye Workout Wipes
Workout wipes by Buckeye are known as the muscle cleaner. These wipes are exceptionally versatile, they remove graffiti, ink, permanent marker, grease, oil and most other stains from nonporous surfaces. They are 10″ X 12″ dual sided – a melt blown polypopylene side for heavy-duty cleaning and a smooth side for daily cleaning. 75 wipes per canister.