Aerosol Products
Aerosol Cleaners

Deep Blue Glass & Surface Cleaner
This ammoniated product quickly penetrates dust, smoke, grease and grime on all glass surfaces. It is also excellent for cleaning stainless steel, Formica, plastic, porcelain and chrome. It works great on all surfaces and never streaks or smears.

Clear Image Glass Cleaner
This non-ammoniated glass cleaner incorporates powerful anti-static agents that repel dust and prevent static build-up. Cleans and polishes glass without scratching, streaking, fogging or clouding.

Lemon Furniture Polish
This natural lemon oil formulation cleans, polishes, and protects fine furniture, woodwork, vinyl, plastic, Formica, leather and metal. Easily removes wax build-up, fills in monor scratches and cracks and leaves a bright shine.

Top Flight Plus
This all purpose cleaner is tough on grease and oil as well as dirty hand marks, crayon, lipstick, smoke film, ink, coffee and cola stain on most washable surfaces.

Sprayway Ammonia Free Glass Cleaner
This is our most popular product for your glass cleaning needs. It is ammonia free and works on glass, mirrors, windows, windshields, chrome, tile, porcelain and other hard surfaces. The heavy duty foam clings to vertical surfaces and dissolves grit and grime and is guaranteed to leave no film.

Sprayway Ammoniated Glass Cleaner
This ammoniated glass cleaner provides uniform coverage with a clinging foam. Loosens soils on contact, fast drying and leaves no streaks.

Sprayway Furniture Polish
This excellent furniture polish is designed for industrial and commercial use anywhere wood and many other surfaces require special care. This product dusts, cleans and polishes all in one step. It contains lemon oil and removes fingerprints, smudges and stains.

Sprayway Stainless Steel Polish & Cleaner
This stainless steel cleaner will clean, polish and protect your stainless steel appliances, fixtures and trim. It resists fingerprints, grease and water spatter or oil stains.

Sprayway Chewing Gum Remover
This quality chewing gum remover effectively removes gum, wax and putty from surfaces. It works by freezing the substance so it can easily be cracked off. It leaves no residue and has a pleasant cherry scent.

Sprayway Grill & Oven Cleaner
This effective grill and oven cleaner cleans and shines cooking equipment in restaurants and other commercial establishments. It efficiently cleans grills, rotisseries, stove burners, electric frying pans and other cookware resistant to caustics. It is formulated for use on porcelain, glass, ceramics, stainless steel, and cast iron surfaces.

Sprayway Baseboard Cleaner & Wax Stripper
This product is specially formated to serve the housekeeping professional where floor machines are unable to reach. The penetrating foam quickly removes soil and wax buildup from baseboards, floors and ceramic wall tiles.

Sprayway Dry Air Odor Eliminator
This Malador Neutralizer instantly neutralizes odors to keep rooms fresh and fragrant. It attacks odors trapped in carpeting, upholsteries and draperies without staining. It is perfect for bathrooms, sick rooms, basements, smoke-filled rooms, offices, automobiles, factories or shops.

Carpet Spotter Plus
This powerful carpet cleaner is specifically formulated to remove tough spots and stains from carpets instantly and it ideal for pre-spotting prior to shampooing. The forceful spray with non-foaming formula quickly penetrates for fast spot removal without rubbing or scrubbing.

Sprayway Rug & Upholstery Cleaner
This foaming rug & upholstery cleaner is ideal for use in any setting where rugs and upholstery require deep cleaning. It releases ground-in dirt from rugs, carpets and upholstery including velour. It is perfect for spot cleaning, spills and spot pick-up. Not for use on silk.

Sprayway 508 Fabric Cleaner Plus
This quality product quickly and effectively removes soils from upholstered fabrics and similar surfaces. The high foam cleans quickly and does not sink in, leaving the fabric clean and dry.

Sprayway Rug & Upholstery Cleaner
This product quickly and effectively removes soils from most upholstered fabrics and similar surfaces. The inverted valve allows for cleaning in those hard to reach places. It can be used as a spotter or a cleaner for fast soil removal, leaving the surface dry and clean.

Sprayway Dust Up Floor Dressing
This effective product quickly improves dust pick-up on mops and cloths so you're not just moving the dust around. It converts dust into heavy lint for easy disposal and leaves no oily residue. It is for use on wood, concrete and resilient floors.

Sprayway Orange Citrus Crazy Clean
This excellent product cleans, deodorizes and degreases parts, work areas, walls and floors. It removes dirty hand-prints, scuff marks, bath tub rings, soot, grease, smoke film, dust, oil, lipstick and crayon marks.

Sprayway Adhesive Remover
This water-based product removes adhesive from glass, plexiglass, vinyl and poly banners, painted aluminum, auto paint, and many other surfaces. It is perfect for use during tinted window installations. It is for use only on oil-based enamel and fully-cured painted surfaces. It is not recommended for use on latex paint backgrounds.

Sprayway Silicone Spray
Regular use makes everything move easier for industrial maintenance personnel and sewing trades. It prevents sticking and binding and protects equipment. Reduces friction, speeds clean up of parts and equipment, increases production and reduces down time. Speeds fabric flow, remains dry and is non-staining. It is FDA approved and can be used in food processing and kitchen areas.

Sprayway Crazy Clean
This multi-purpose clinging foam cleans and deodorizes. It removes hand prints, scuff and crayon marks, grease spots, soot stains, and smoke film. It produces sparkling results when used on hard surfaces, including window sills and venetian blinds.

Sprayway
This is a counteractant air freshener, not a masking product and it leaves a pleasant, long-lasting citrus fragrance. For use on draperies, upholstery, carpeting, bedding, waste cans, automotive interiors, etc.
Available in these scents:
Citrus Blast
Fresh Melon
Mulberry Mist
Mountain Air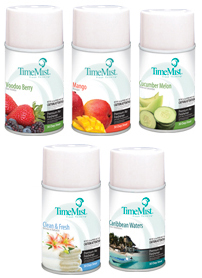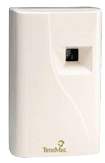 TimeMist
We also carry a line of metered air fresheners from TimeMist. TimeMist premium metered air fresheners contain odor counteractants to eliminate offensive odors.
They are for use in all full-size TimeMist metered dispensers.
The TimeMist classic dispenser has a sophisticated design, a 30 day refill life, and a 15 minute spray setting. Maximum odor control at minimum cost.
The TimeMist Model 1000 dispenser is easy and effective at minimal cost, with a 30 day refill life and a 15 minute spray setting.
The TimeMist refills come in the following fabulous fragrances: 
Baby Powder
Cactus Blossom
Bayberry
Caribbean Waters
Cherry
Cinnamon
Citrus
Clean N' Fresh
Creamsicle
Cucumber Melon
Dutch Apple
French Kiss
Country Garden
Green Apple
Juniper Breeze
Lavender
Mango
Pina Colada
Raspberry & Acai
Vanilla Cream