What's New
It is described in many ways…Women's Health, Menstrual equality, Bathroom Equality, Basic Human Dignity. It's time to take women's menstrual care needs seriously. PERIOD. Women should find readily accessible tampons and pads in every restroom outside the home. It is becoming law in more and more states and provinces. Miracle Sanitation Supply can help you with the complete menstrual care system for your facility.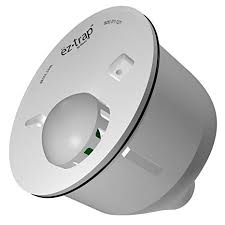 Introducing the new ez-trap by eckos, the easiest and most effective way to keep your waterless urinal clean and significantly reduce costly maintenance problems.
This patented cartridge system allows the natural flow of urine through the trap, and renews the liquid seal with each use.
new replacement cartridge for waterless urinals
uses no gels, eliminates bad odors
dramatic hygiene improvement
can be washed with water or any cleaners
lasts 3 times longer than the OEM cartridges
costs less money
ez trap is a "certified product"
fits "Sloan" and "Falcon" waterless urinals
size: 4.64″ X 4.64″ X 4.52″
weight 8 oz
Introducing Square Scrub, your versatile, multiple surface cleaner!
Tile, granite, hardwood – even stone polishing, Square Scrub embodies Multi-Purpose.  With over 100 types of pads, plates, screens, papers and diamonds, there is a tool available to help you tackle virtually every floor type.  Got a marble floor in desperate need of some shine?  Use our stone care diamonds.  Want an easier way to remove all of that carpet glue?  The Abrader Plate tears right through it.  Even small problems like removing gum from concrete can be solved with Square Scrub.  Our 16 Grit Pro Sandpaper works great for that.  Wet or dry, whatever your need, we've got the right tool for any job and a machine that can do it all.  Now that's versatility!!
Safe and easy to use.  You add or decrease weight to suit your floor type.  Reduce stress/wear on the body, work longer.  More efficient, less repetition over the same area.  Easy adjustment for user height and floor type.  Low amp draw won't overload breakers.  Reduces airborne particles.  Very quiet, great for use in noise sensitive areas.  Small enough for most spaces, large enough to prep even large areas quickly.  Solid and sturdy for easy transport.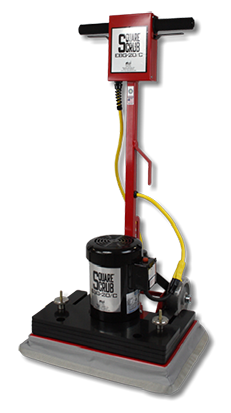 EBG-20 by Square Scrub
The Square Scrub EBG-20/C is our most versatile machine. If you are looking for a machine that can move from one type of floor to the next, this is the right machine for the job. With features like slotted removable weights that allow you to reduce weight to clean carpet and add weight for heavy duty jobs like stone polishing, the EBG-20/C is truly Versatile.  Operates at 3450 rpm.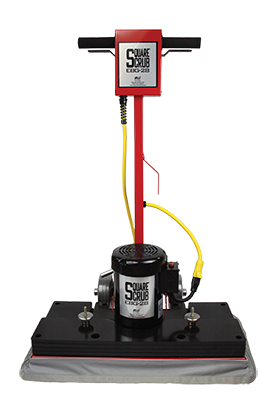 EBG-28 by Square Scrub
 If you primarily prep large areas, the EBG-28 is the ideal machine. The 14″x28″ pad size is 40% larger than the EBG-20/C allowing you cover more area more quickly. Just like the EBG-20/C, the ability to move in straight and efficient lines allows for greater productivity. Weighing in at 216* pounds, the powerful, heavy and durable EBG-28 help penetrate multiple layers of finish.  Operates at 3450 rpm.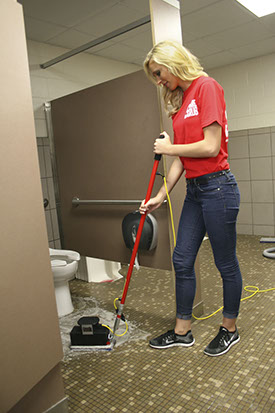 EBG-9 Doodle Scrub by Square Scrub
The Doodle Scrub® EBG-9 by Square Scrub® is our most compact machine. Just because it's small doesn't mean it isn't powerful. The Doodle Scrub packs just as much punch as our bigger EBG machines, but with small exception – THE DOODLE SCRUB GOES WHERE OUR BIGGER MACHINES CAN'T. At 22 pounds, the Doodle Scrub® delivers nearly the same pounds per square inch as the EBG-20/C.
The Doodle Scrub® was created and designed specifically for those out of reach areas that our bigger Square Scrub machines can't reach. Square Scrub's NEW patent pending EBG-9 handle innovation gives you not just ONE but TWO ways to attach the handle to the base, giving this machine and its user maximum VERSATILITY2®.
The Doodle Scrub® is perfect for cleaning and preparing floors around toilets, bathroom stalls and similar tight spaces where larger machines can't reach. The Doodle Scrub is also great for cleaning stairs, VCT, tile & grout, rubberized flooring, and much, much more.  Operates at 4100 rpm.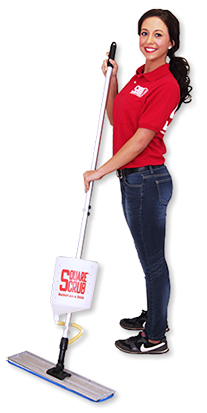 Bucket on a Stick by Square Scrub
Our innovative Bucket on a Stick design holds 5 quarts of finish and provides the best balance and control of any all-in-one applicators. The microfiber mop head applies the finish quickly and smoothly. Easy to clean and maintain.