Kitchen Products

There may not be a more important area to keep clean and sanitary than a food preparation area. Miracle Sanitation Supply understands that and we have the products and equipment to help you ensure a sanitary environment.
Miracle Sanitation Supply carries the following products for your kitchen sanitation needs:
Liquid Dishwasher Detergents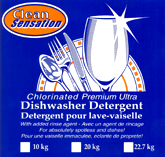 Clean Sensation Liquid Machine Dishwasher Detergent
For commercial dishwashers with line feed. A high quality alkaline product with new age surfactants and maximum sequestration for easy rinsing and spotless dishes. Added silicates to protect glasses and glazing on dishes from corrosion. Available in 4 litre or 20 litre sizes.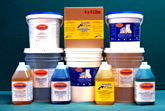 Clean Sensation Liquid Machine Glass Wash Detergent 
For commercial glass wash machines with line feed in bars and restaurants. Formulated for maximum wetting and effective rinsing. Available in 4 litre or 20 litre sizes.

MultiBlend Auto Dishwash
Low foaming, this concentrated machine dish washing liquid gives superior results. It's controlled alkalinity provides for effective destaining and protein soil removal.

MultiBlend Auto Dishwash Chlorinated
A superior 2 in 1 deteregent for use in automatically fed dishwash machines. Cleans and sanitizes.

MultiBlend High Temperature Rinse
For glasses and dishes.

MultiBlend DishPlus II
Low temperature and glass wash compound.

MultiBlend Hard Water Detergent
Automatic dish detergent for hard water areas.

MultiBlend Sanitizer Destainer
This is a widely used sodium hydrochlorite 12% sanitizing product.

MultiBlend Rinse Aid
A rinse agent that gives spotless rinsing for high temperature metered dishwashing machines.
Powder Dishwasher Detergents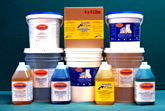 Clean Sensation "Premium Ultra" chorinated dishwasher powder
New age formula with acrylic polymers for maximum mineral suspension. Added rinse agents for spotless dishes and glasses. No spotting on stainless flatware. Prevents clouding of plastic dishes. Corrosion protection for glasses. Available in 4kg, 10kg, and 20kg sizes.

Velveteen – lotionized dishwash concentrate
Fiesta – lemon fresh dishwash soap
Tilly – pink lotion hand dishwashing detergent, neutral pH specially designed for industrial, institutional and restaurant use where fast grease emulsification and long lasting suds are a must. Made from only the finest anionic and nonionic surfactants, this formulation rinses quickly and easily.

Liquid Chisel – a viscous-clinging oven and deep fat fryer cleaner
Grill Clean – heavy carbon remover for ovens, grills, and deep fat fryers
Betco Oven & Grill Cleaner – this product jells and clings to vertical surfaces, providing long contact time for easier cleaning. More effective that foaming products, thsi formulation quickly penetrates and removes stubborn baked-on carbon and soil.

Proxi Concentrate – a multi surface, hydrogen peroxide based cleaner for most surfaces
F-25 – a concentrated quaternary based liquid sanitizer for previously cleaned food contact surfaces.
Sanitbet – disinfectant, sanitizer, deodorizer and midlewstat on hard, inanimate surfaces. Highly concentrated quaternary type sanitizer disinfectant is effective for use in a variety of operations. Perfect for sanitizing glassware, flatware, and food contact surfaces.

Enviro Care Tough Job – heavy duty cleaner/degreaser for spray and wipe cleaning on walls, countertops, floors or other heavily soiled surfaces
Enviro Care Liqui-Bac – a living, non-pathogenic bacterial treatment which breaks down and liquefies solids such as fats, proteins, carbohydrates and grease. This product contains both aerobic and anaerobic bacteria and immediately neutralizes all malodors. Recommended for drains and grease traps.
Natural Shine – biobased, ready to use, liquid stainless steel cleaner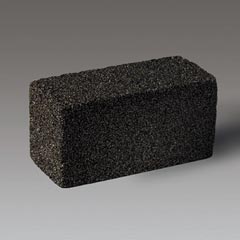 Grill Cleaning Bricks
Grill brick cleaners are an amazingly easy to use utensil that clean flat grill surfaces fast. It's a no-nonsense product – no handles, screens or holders to fuss with – so inexpensive it makes frequent grill cleaning worthwhile. It's simple, easy and effective. It outlasts screens and pads and works on hot grills. It's user friendly too, easy to grip, takes little pressure and uses no harsh chemicals. These bricks are easy on the grill too, they won't scratch surfaces, lift cure, or clog with grease, and they're non-porous and non-toxic too.
Step 1 – Use a scraper on hot grill to remove food and grease.
Step 2 – Apply a coating of oil to the grill. Hold the brick with a cloth and clean with a back and forth motion.
Step 3 – Scrape away all cleaning residue and rinse with water.
No need to use heavy pressure
No need to turn down the grill
No need to use chemicals
No need to assemble parts

Citrus Chisel – non-butyl citrus cleaner and degreaser – superior performance of this product provided by a synergistic mixture of natural citrus solvents and a totally unique surfactant system. Excellent for nearly any cleaning task from factory to kitchen, it is concentrated for economy.