Receptacles

Miracle Sanitation Supply carries SuperKan receptables, they are known as the strongest, safest and smartest receptacles on the market today.

The Huskee SuperKan
The Huskee SuperKan receptacles are classics. They are known as the strongest, safest and smartest receptacles on the market. Two versions of this receptacle are available: the SuperKan Material Handler and the SuperKan BackSaver.
The SuperKan Material Handler
The SuperKan Material Handler is molded with engineered resins which are strong and long-lasting, and are used in virtually every industry. Seamless construction makes clean-up quick and easy. Heavy-duty handles are reinforced at five points, offering unequaled strenght.
The SuperKan BackSaver
This receptacle is everything the standard Huskee SuperKan Material Handler is and more. Internal, ergonomic vent ribs which allow air to vent to the bottom of the can, break the vacuum created when removing a polyliner. this results in reduced effort and reduced risk of back injury. Laboratory testing has proven that the vent rib feature reduces the vertical lift force required to remove a bag of trash by more than 50%.
A molded in bag cinch was recently added to this receptacle. This new feature eliminates the need to tie knots in the polyliner to keep it secure around the receptacle's rim.
Also, in response to our customers' requests we have added a 32 gallon version. This receptacle is perfect for areas where space is a premium.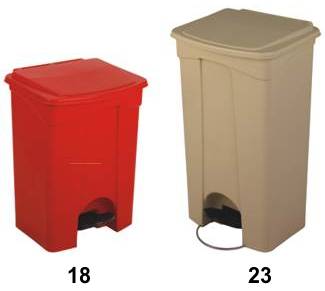 Step-On Receptacles
These receptacles allow for convenient and hygienic disposal of waste. The step-pedal provides hands-free use. They can be used with standard polyliners. The twenty-three gallon receptacle has wheels and a wire frame for ease of mobility. The rigid liners are sold separately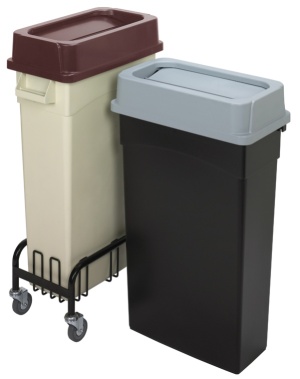 Wall Hugger Receptacles
The Wall Hugger Receptacles create a sleek and attractive design that holds twenty three gallons of waste, but protrudes less than one foot from the wall. The smooth, seamless design provides prolonged life and promotes easy cleaning. The expanded line now includes a version with built-in handles which provide ease of transport. Molded-in hand grips in the receptacle base provide a secure area to grasp when lifting and dumping. A molded-in bag cinch eliminates the need to tie knots in the polyliner to keep it secure around the receptacle's rim. A variety of compatible lids are available, including the push door, the drop slot, or recycle lids. Wall Hugger Receptacles can be mounted to the wall using the optional mounting bracket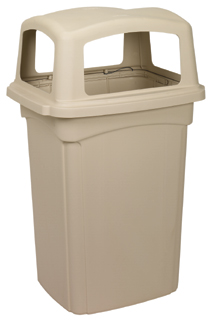 Colossus Receptacles
The Colossus Receptacle with four openings is available as a 45 gallon or 56 gallon receptacle. The two large front openings and two large side openings easily accommodate bulky debris like pizza boxes, 32oz cups and food service trays. This unit is truly designed for high volume applications. The contoured lid's top surface prevents accumulation of debrtis and water while providing a unique and visually appealing style. The Colussus Receptacle with two spring loaded doors is available in 45 gallon or 56 gallon as well. The heavy duty door springs keep doors closed tight to keep odors in and pests out.
Waste Baskets
Miracle Sanitation Supply can also provide you with all of your waste basket and recycle basket needs.

WB2815-BL-RYC
26Litre/28Quart


WB4120-BL-RYC
39Litre/41Quart



WC301NL – Swing Top Receptacle
All steel construction for maximum fire protection. Piano hinge joins top to base – steel guide rods hold top at 90 degree angle allowing for easy servicing of unit. Folding steel bands hold poly bags securely out of sight. Two disposal openings are protected by stainless steel push doors.