Deodorants
Miracle Sanitation Supply carries a wide variety of air freshener products. Please see our Aerosol Products page.
Introducing Scentsations, a new coordinated aromatherapy experience by Rochester Midland:
Scentsations provides a coordinated aromatherapy experience throughout your facility and in your restrooms.
Unpleasant odors create negative experiences for employees, customers and visitors. Employees become less productive and customers are less likely to return or recommend your business to others. Pleasant aromas can create a positive experience with customers, making them more likely to return or recommend your business. Emplyees also become more satisfied and productive.
Scentsations brings a blend of essential oils to an entire suite of products designed to reduce olfactory confusion through coordinated scents. It turns negative experiences from unpleasant odors into a positive, productive experience for employees, customers and visitors.
Great for schools, offices, health care, hospitals, nursing homes, restaurants, shopping malls, hotels, churches, manufacturing, bowling alleys, golf courses, camp grounds, recreational centres and more!
There are five different scents, and they all have these options:
– Time dispensed, 30 day metered spray to deliver targeted aroma when you need it
– Oxygen powered passive odor control for up to 60 days
– Breeze 2.0 urinal screens that reduce splash and deliver 30 days of aroma as well as Breeze bowl clips that fasten inconspicuously while providing 30 days of lasting aroma
– Liquid odor control with NanoLok neutralizer to capture unpleasant odors. Use for whole room deodorizing or as a fragrance booster for floor and carpet cleaning. Available in ready to use quarts or concentrated gallons.
The Five Scentsations:
ZEN – A spa like experience with lavender and floral aromas to create a calming and peaceful experience
ZEAL – A vibrant apple and pear aroma to awaken and refresh the senses
EXCITE – An energizing blast of citrus to awaken, excite and motivate
SOOTHE – A soothing herbal eucalyptus aroma to invigorate, refresh and give an outdoor feeling
BLOOM – A familiar cherry aroma to ease, relax and provide a comforting experience
Disinfectants
Disinfection concerns today like the H1N1 virus and MRSA have never been more critical within the complex and the ever changing healthcare environment. With Miracle Sanitation's disinfection solutions, you can be confident that you have the latest in chemical disinfectant technology to reduce the spread of disease. Choose from our complete line of convenient ready to use disinfectant cleaners for the efficacy and performance required for your cleaning needs.
Cleaning – The physical process of removing contaminants from a surface – usually a visual process.
Sanitizing – The process of reducing the numbers of bacterial contaminants to safe levels as judged by public health requirements, particularly prevalent in food service applications.
Disinfection – The process by which many or all fungi, bacteria, viruses, or other pathogenic microorganisms are killed, or inactivated on inanimate objects or surfaces.
Types of Disinfectants:
Phenolics – intermediate level disinfectant, some restricted uses, discolor plastics.
Bleach – corrosive, staining and discoloration, limited shelf life, limited activity in the presence of organic matter, poor cleaner.
Alcohol – good surface disinfectant, flammability concerns.
Pine Oil – "nature's disinfectant" also disrupts the cell wall.
Peroxide – non-staining, non-corrosive, better shelf life than bleach, powerful destainer.
Quats – very good cleaners, cost effective, appropriate for most surfaces, very compatible with other ingredients.
Ready To Use Disinfectants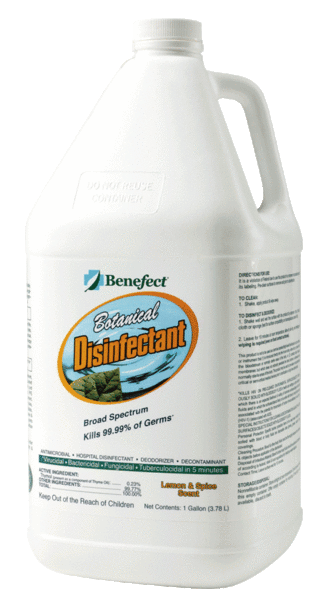 Benefect Botanical Disinfectant
4 Litre or 20 Litre
Benefect kills 99.99% of germs, is fungicidal, tuberculocidal, virucidal, and bactericidal. Made from plant extracts and contains no dyes, bleach or synthetic fragrances. Benefect is a ready to use product which requires no rinse or wipe which saves costly labor & time. It is suitable for use around children, pets and any chemically-sensitive individuals. Can be used as an alternative to chlorine, ammonia & oxidizers. Benefect is not corrosive, flammable or reactive.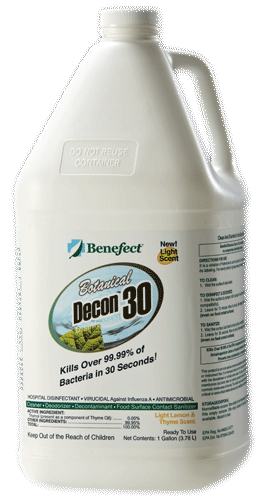 Benefect Botanical Decon 30
4 Litre
A new innovative one-step disinfectant cleaner specially formulated for the majority of water damage restoration jobs. Benefect Decon 30 has a light scent, kills over 99.99% of bacteria in 30 seconds and contains no synthetic fragrances, dyes or bleach. Ideal for decontamination, preventing cross-contamination, cleaning, disinfecting and deodorizing in water damage applications.
Betco BioActive Solutions Dock and Dumpster Cleaner
BioActive Solutions DnD is a foaming dock and dumpster cleaner that is ideal for deodorizing organic waste. Its citrus fragrance leaves a lasting impression of cleanliness in the dirtiest of locations. Enzymes digest complex proteins, starches, and fats while surfactants cut grease common in food service areas. Clinging foam improves contact time and a malodor counteractant eliminates smells.

Fight-BAC RTU
This broad spectrum disinfectant cleaner kills TB, MRSA, Influenza A, HBV, and HCV and H1N1. It is quaternary based, anti-bacterial and is an ideal disinfectant spray for use in hospitals, nursing homes, schools and hotels. Provides excellent performance in cutting grease, heavy soil and filth with quick drying time.

Cide-Bet Citrus Bouquet
This easy-to-use foaming germicidal detergent clings, cleans, disinfects and deodorizes in one quick operation. Its quaternary formulation features residual activity that controls germs for up to five days after surface is cleaned. A hospital type disinfectant, this product kills a broad range of microorganisms including staph, salmonella and pseudomonas, as well as mold and mildew and fungi.

Glybet Citrus Bouquet
This quality product is a disinfectant, deodorant, and citrus bouquet that is ideal for many surfaces and as an air deodorizer.

Glybet Surface and Air
This excellent product is a surface disinfectant and an air sanitizer with a citrus fragrance. This formulation is the first spray product to control both surface and airborne bacteria.

TB Plus Spray
This phenolic, hospital grade disinfectant/deodorant spray provides outstanding germicidal activity. Use as part of your H1N1 prevention plan.