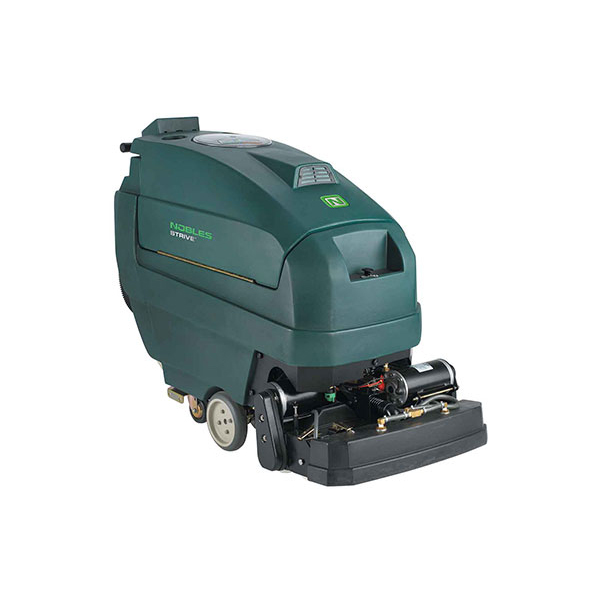 Nobles STRIVE®
Dual-technology carpet cleaner
It's fast.
With ReadySpace technology, your carpet will be clean, dry, and ready for use in 30 minutes or less.
It's powerful.
Use deep cleaning setting for maximum soil extraction.
It's thorough.
ReadySpace technology removes soil before it becomes embedded, and separates soil from both the front and back of carpet fibers with dual counter-rotating brushes.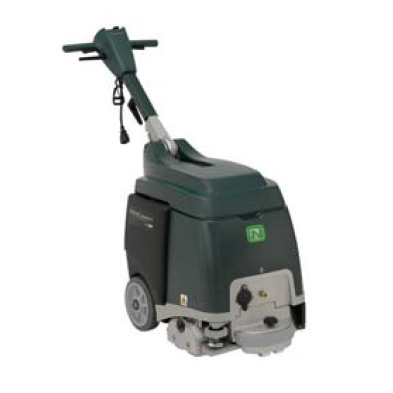 Nobles Strive® Compact
Cord-electric, ReadySpace® specifications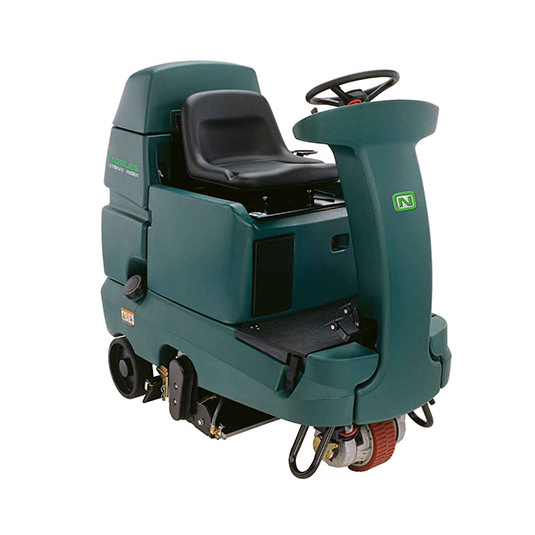 Nobles Strive® Rider
Dual-technology carpet cleaner
It's fast.
With ReadySpace technology on your Strive Rider, large carpeted areas are clean, dry, and ready for use in less than 30 minutes.

It's powerful.
Use the Strive Rider's deep extraction technology for maximum dirt removal. Heavy-duty brushes and powerful vacuum lift will give you unmatched cleaning results.

It delivers.
Whether it's thorough, frequent cleaning or deep, occasional cleaning – this versatile machine does the job.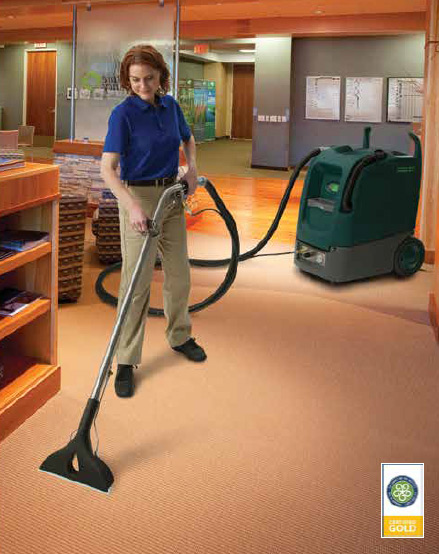 Nobles Explorer™ C2/H5
Canister Extractors
Reliable carpet extractors offer cleaning performance in an easy to use, versatile design.
Productivity
Increase productivity with more time spent extracting and fewer dumps with a large 15 gal solution tank and 13.5 gal recovery tank.
Durability
Built for durability with Roto-mold double walled construction for outstanding performance and a longer life.
Ease of Use
Easy grip handles allow for quick transportation to clean more spaces.
Performance
CRI gold certified cleaning when used with Exodus Titanium Wand.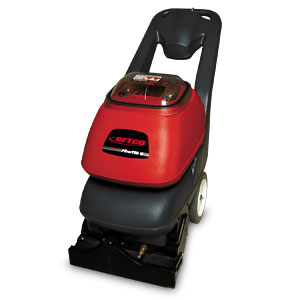 E-E87304-00
Betco FiberPro 8
This Betco carpet extractor effectively cleans all types of carpeting. A simple design makes training easy and reduces operator fatigue. Multiple brush settings allow for maximum deep cleaning of carpets and superior recovery reduces dry times. Received Seal of Approval from the Carpet and Rug Institute as a Certified Deep Cleaning System.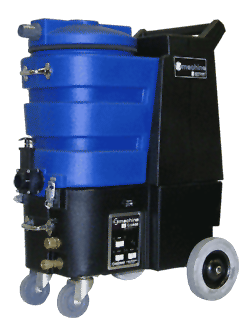 Ninja Classic
Put the industry's leading portable extractor to work for you! All units ranging from 150 to 500 PSI.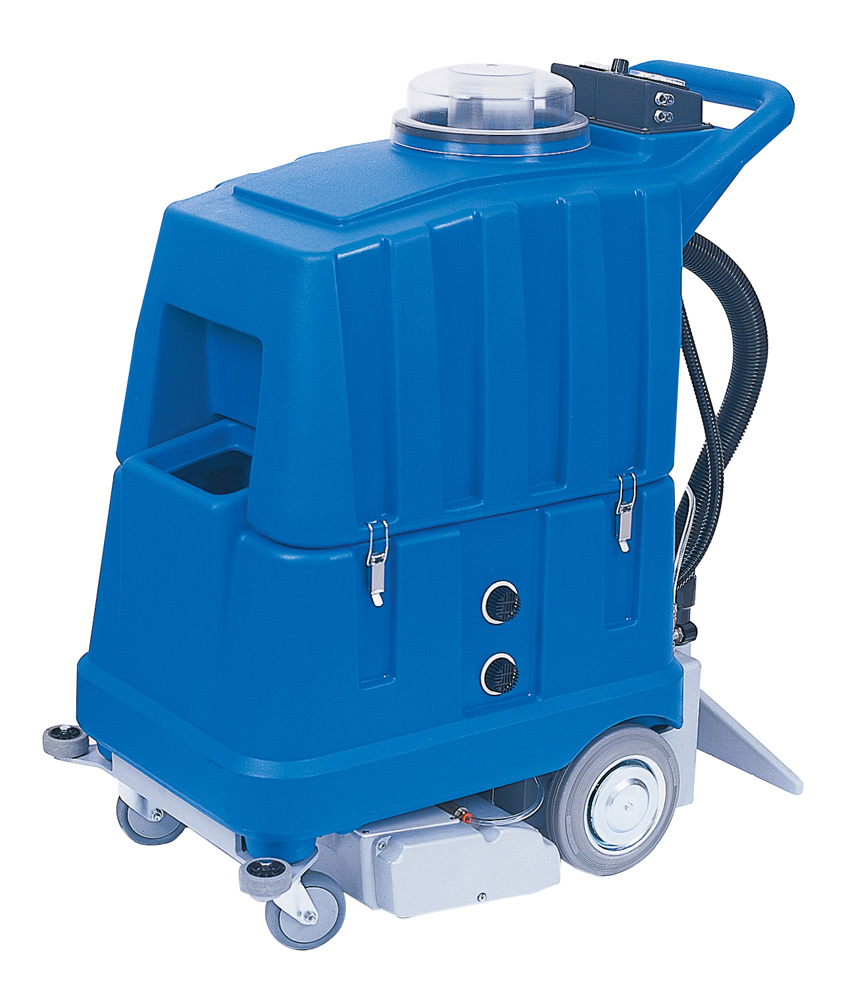 AV18AX
With large 18-gallon tanks and a 3/4 hp drive motor, the Avenger AV 18AX can tackle even the biggest commercial job.
With the optional patented onboard "Smart Kit," the pump can be used as an automatic pre-spray system with the chemical injected downstream (of the pump) so only water flows through it, preventing any buildup.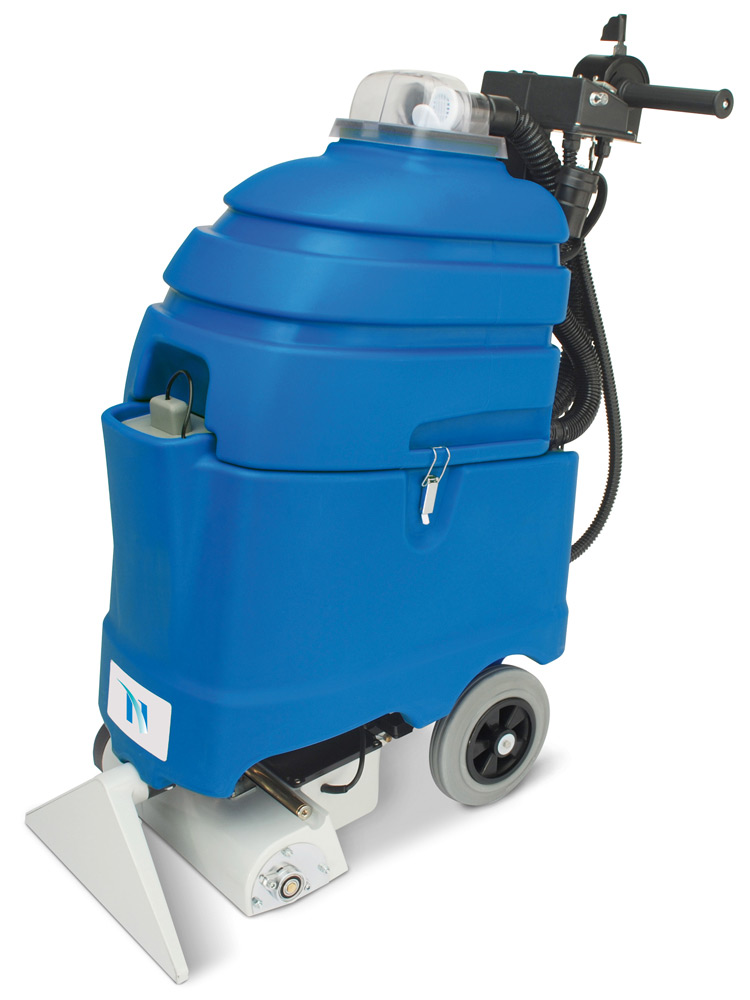 AVB9X
The AVB 9X is well balanced and easy to use; the 16-inch brush ensures it can handle the toughest of jobs. The high water lift motor provides excellent water recovery; in most cases carpets can dry in less than one hour. The float shut-off ensures water never reaches the vacuum motor and the four jet spray bar provides a consistent spray pattern with no streaking.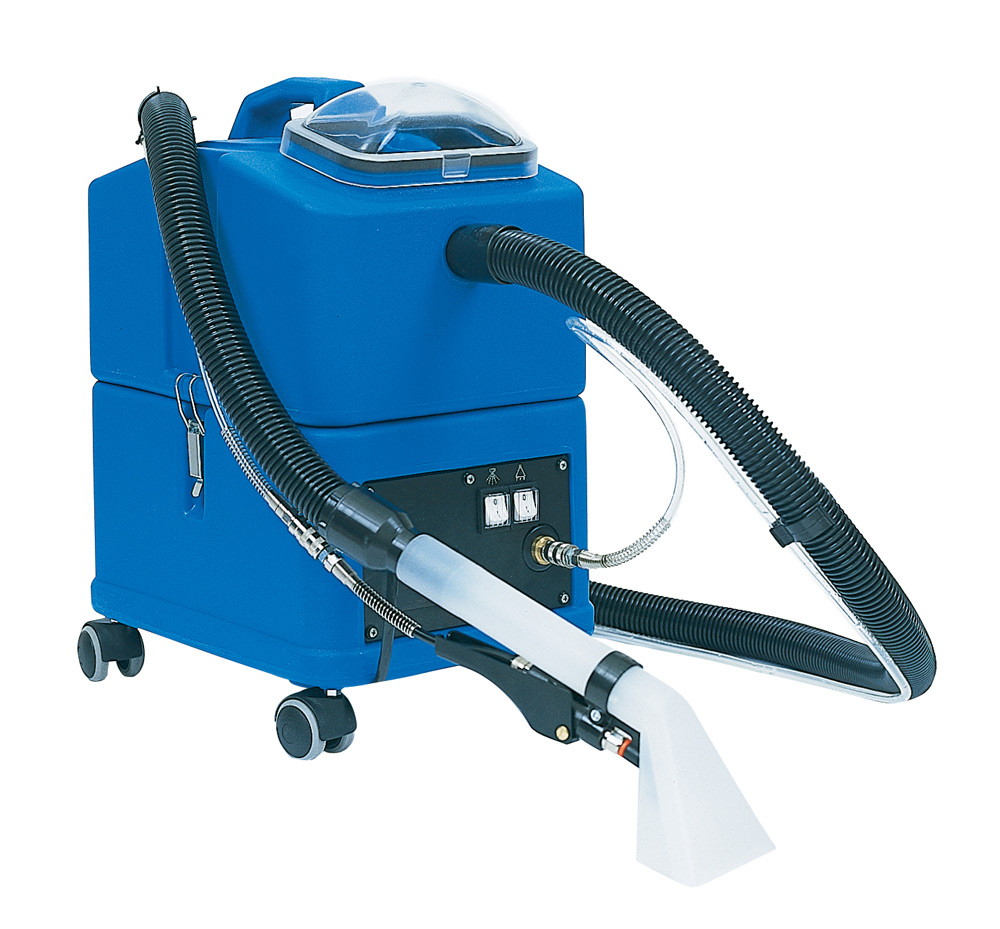 TP4X
Features:
Rugged two piece roto moulded polyethylene
Powerful 2 Hp vacuum motor with 2 year warranty providing excellent water recovery Motor provides 120″ waterlift and 106 CFM of airflow
Features a 60 PSI pump
Lightweight and easy to transport with the upper and lower tanks detaching into two separate units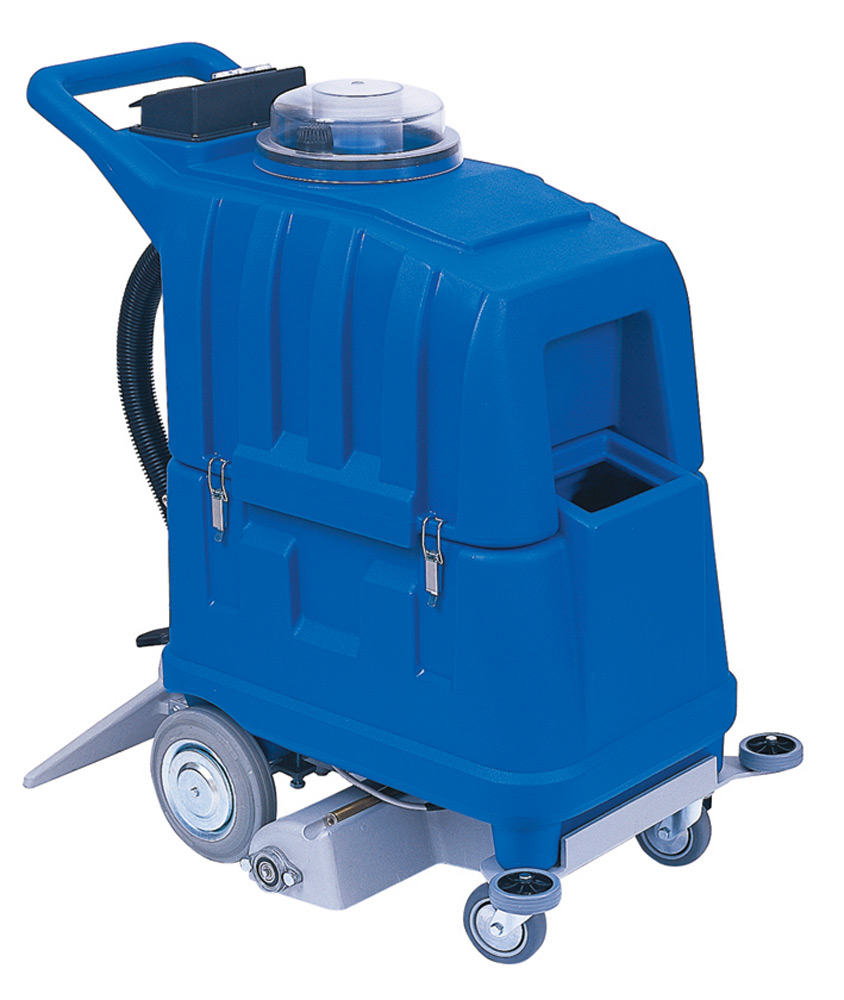 AV12QX
Running under 60 dB, the AV 12QX is an excellent choice for any 24 hour facility, especially in the hospitality and healthcare industries. The AV12QX is constructed of polyethylene and features a 130 psi pump providing a flow rate up to 1.2 gpm. The powerful 1.8 hp, three-stage vacuum motor provides 135-inch water lift and 95 cfm of airflow. The spring-loaded vacuum shoe is adjustable, ensuring consistent pressure and pick up on different carpet thicknesses and uneven floors.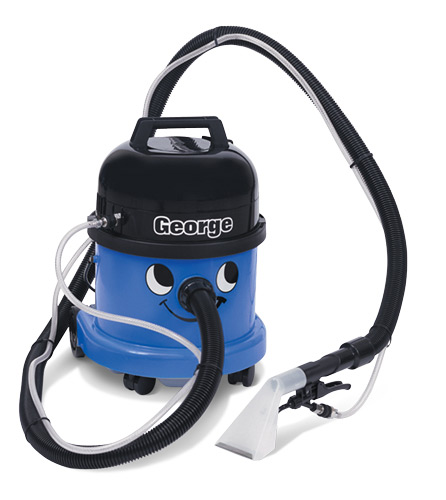 GVE370
Features:
Powerful 1.3 Hp vacuum motor with 2 year warranty providing excellent water recovery
Motor provides 100″ waterlift and 95 CFM of airflow
Features a 30 PSI pump providing enough power without injecting water too far in the fabric
Handy carrying handle for dumping
Ball float wet shut-off assembly ensures water does reach the motor
Polypropylene tanks for maximum durability and mobility
Ideal for spotting, upholstery cleaning and vehicle detailing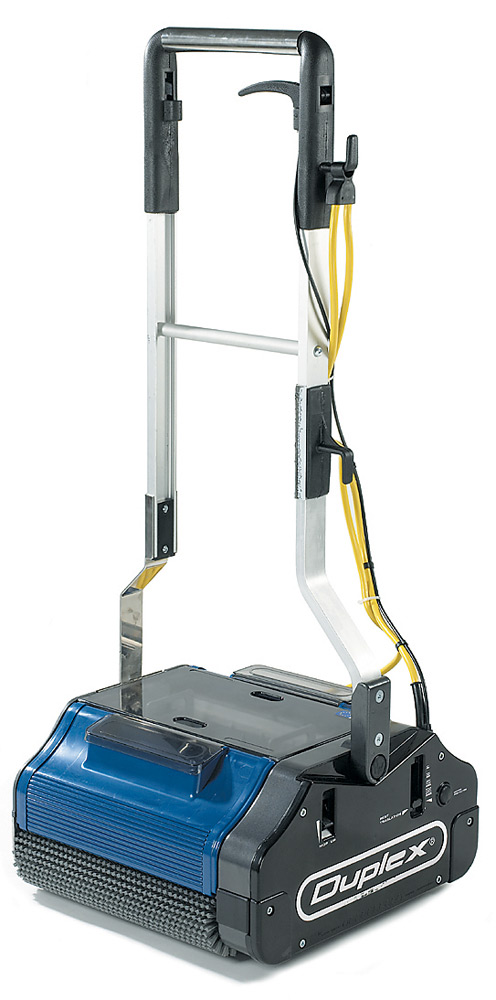 DP420
Features:
Can clean virtually any floor surface
Very effective on grouted tile and rubberized floors
Also cleans carpets, hardwood, profiled ceramics
If the floor is uneven use the Duplex 2 counter-rotating brushes that scrub the surface with aggressive action
Twin conveyors lift the dirt-filled solution from the brushes to a central recovery tank or you can choose to double scrub the area picking up the water later
Brushes and drive unit are offset, so the brushes work right up to the edge of the machine and into difficult corners
Brush options include 2 grades of black brushes for regular or aggressive scrubbing, grey is the standard all purpose brush and yellow is for sensitive carpet areas
Excellent as a replacement for bonnet cleaning or interim cleaning
Our industries best restoration machine when used in conjunction with hot water extraction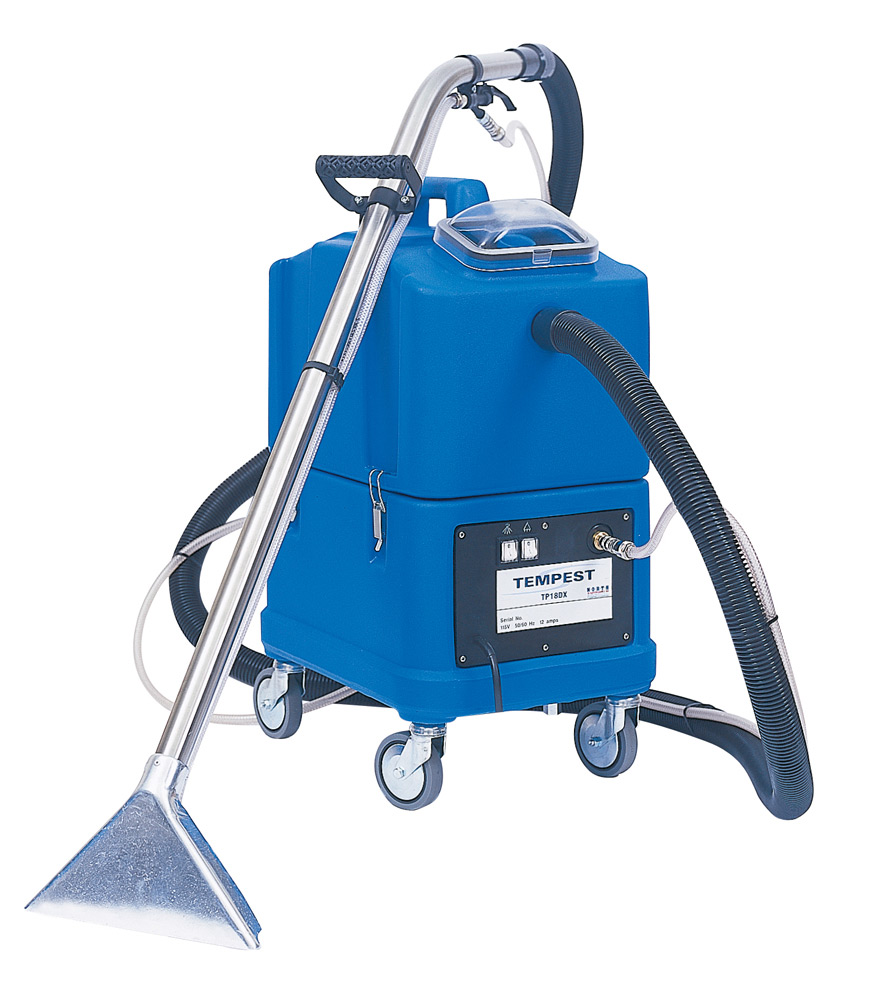 TP8X
Features:
Rugged two piece roto moulded polyethylene
Powerful 2 Hp vacuum motor with 2 year warranty providing excellent water recovery
Motor provides 120″ waterlift and 106 CFM of airflow
Features a 130 PSI pump and comes complete with 20 foot vacuum and solution hoses to tackle even the largest of jobs
Lightweight and easy to transport with the upper and lower tanks detaching into two separate units